An erotic romance novel
Teaser
When college student Sapphire Blake finds herself fresh out of a breakup, she is ready to embark on a new journey in her life.
A dark, sensual journey.
Freeing herself from the expectations set by her family, friends, and church, an innocent and unworldly Sapphire begins experimenting with her new casual lover, Vera Richland.
College professor Julian Richland is ridiculously handsome, smart, and intimidating. When the pair are introduced by none other than Julian's own sister, sparks are ignited as Julian sees past the conservative stigma Sapphire believes the world has placed on her.
As the couple begins a dangerous, passionate relationship, secrets become exposed and lives are threatened. Will Julian be able to save his relationship with Sapphire and rekindle the fiery flame they share? Or, will fate have another ending in store?
This book will be published by romance publisher Black Velvet Seductions.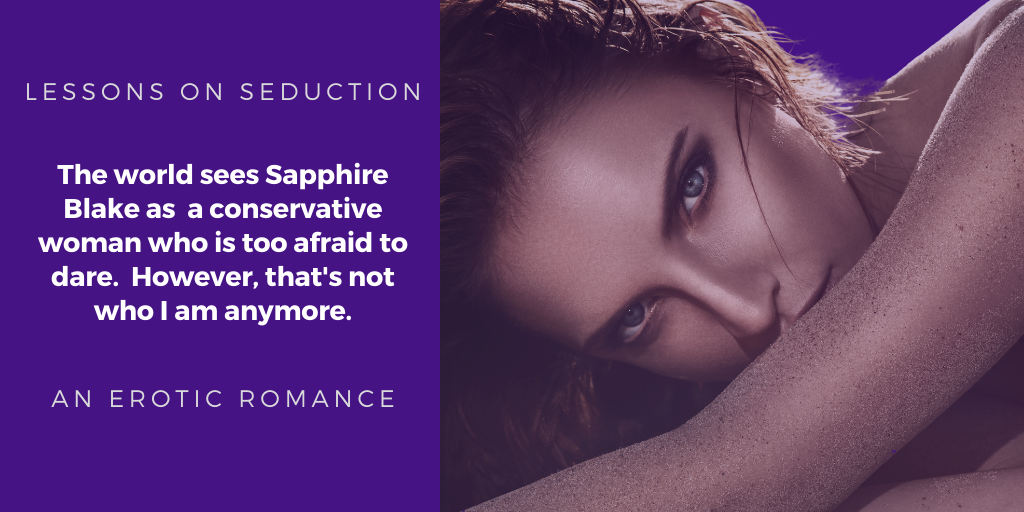 Excerpt
I walked around the spacious living room and was amazed by the floor-to-ceiling windows that showcased panoramic city and river views. It defined downtown luxury living, with its high ceilings, white leather sofas, high-end Italian appliances, and sleek, polished wooden floors. I wondered how he could afford all that—I would have to ask him for some real estate tips when I move from home.
I turned left, headed toward the direction of bedrooms, and stopped when I reached the main en suite bedroom. This must be Julian's room. Curiosity may have killed the cat, but it wouldn't get the better of me, so I dared.
I dropped my bag on the floor and walked into the master suite, which featured two dimly lit lamps and a king-size bed with a charcoal duvet and matching pillows. The unmade bed was the only untidy element in this otherwise clean home, indicative of either his most recent sexual activity or his forgetfulness to make the bed up. I doubted that it was the latter. As I walked past the bed, I noticed leather handcuffs on the crumpled duvet. The soothing sound of water running in the shower caught my attention, enticing me to take a sneak peek in the bathroom.
The bathroom door was left open at a forty-five-degree angle, and the pull of temptation gravitated me toward it. I was curious. I usually did not pry into the privacy of others, but I had never seen a naked man in real life, and I was ready to find out.
Oh, my lord! There he was in the shower, a beautiful man in all his splendor and glory. Julian was wet and naked, reminding me of the marble statue of the biblical, nude David by Michelangelo. Droplets of water ran down his hard, taut, body, all the way to the curve of his muscular back and firm buttocks, then along his sturdy legs. He rinsed the soap off his broad shoulders, chest and slim waist. His body tapered down like a perfect V, and delicate veins ran along his muscular forearms. His penis was thick and admirable, even in its relaxed state, and his testicles hung below. Eyes closed, he lifted his head to absorb the streaming water, and ran his long fingers through his hair, washing out the remaining shampoo foam, which flowed downward.
The heavenly sight of Julian in his nakedness, together with the fresh scent of the citrus body wash, triggered my nipples to harden and the inner walls of my vagina to clench, eliciting a wetness that coated my labia.
Julian's eyes opened and fluttered rapidly, making direct contact with mine. "OH, FUCK!"
"Oh shit, I'm so sorry! I was looking for a spare toothbrush and didn't realize you were here!" I babbled in a flustered state. I was a bad liar.
He turned off the shower faucet, grabbed a towel, and started to dry himself slowly.
"Did you enjoy the show, Sapphire?" Julian smiled smugly, emphasizing my name when he spoke.
"I, uh, I'm staying over with Vera tonight, as we're heading out for a girls' night. I hope that's okay with y-you," I stammered.
"Oh, it's more than okay with me, love. However, you haven't answered my question." Julian's mischievous eyes dangerously twinkled with devilish delight.
"I like what I see," I admitted, gazing at the towel, which he now wrapped neatly around his firm torso.
"Good. Now, come here, baby. Touch me."
I took one step closer to Julian and stroked the blade of his left shoulder with my right hand. My fingers traveled down his chest and stomach, drawing him to release a groan of pleasure.
"That's it. Lower."
"Lower?" I gasped.
"Yes. Further down south, if you get my drift."
My fingers traveled below his navel and down to where the towel met his skin.
"Stop."
"Stop?" I raised my eyebrows.
"Yes, stop," he commanded.
Julian's hands swiftly reached around my neck and untied my halterneck top, exposing my bare breasts to him.
"You're exquisite." His long, dark lashes lowered as he gazed at my topless body.