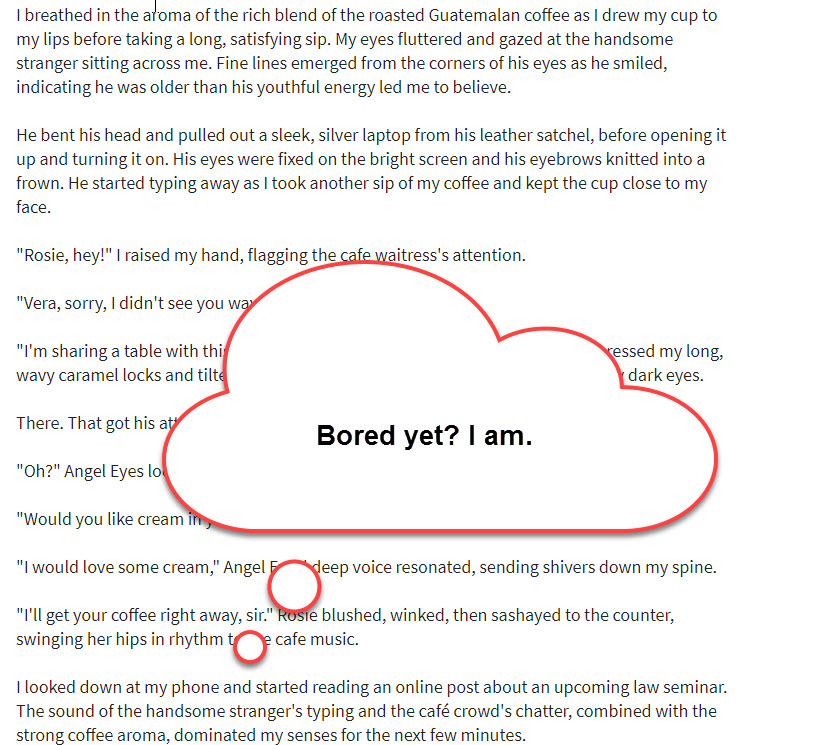 So, you've written a draft of your first chapter and you're thinking that it's darn good. Great. Give yourself a pat on the back.
Now, go and grab a cup of coffee, tea, water, vodka, or whatever your poison is. Do something else, then come back to your writing project in a week.
Yes, you read me. A week.
Read your draft after one week and tell me what you think.
If you still think it's hot shit, then you must be doing something extraordinary. If you're like the rest of us, you'll know it's time for a rewrite.
Your first draft is never the final piece that you'll submit. Chances are you'll find the following:
Spelling and grammar mistakes.
Over-telling the story, loaded with narrative description. This is where your readers yawn and switch off.
Purple prose. Unless you're the poet Horace, just don't go there. Don't. Just don't.
You may have written with the wrong tone, style, and pacing that is contrary to the genre or subgenre you're working on.
If you've answered yes to one, two, or all the above, you're not alone.
This is why writing a novel doesn't magically happen overnight. So, please take the time you need to piece together your first chapter, which is meant to hook your readers. If you aren't fully hooked on your own first chapter, then there's a good chance that your readers will lose interest.
Write your first draft with earnest passion and ambition. Don't worry about all the small technical details. Then go back and fix your chapter a couple of times.
Heck, you may even need to completely rewrite it, and that means changing the scene/setting, holding off from introducing new characters, or entirely changing the agenda of the first chapter.
It may take you a few days, a few weeks, or even a couple of months (in my case) before you crack the code and have that "aha" moment — the moment when you holler, "this is it! This is what I needed to make my first chapter a flipping good one!"
When you get to that point, go and treat yourself to another cup of coffee, tea, water, or vodka. Whatever your poison is, go and celebrate the achievement of finally writing a darn good first chapter!
Your readers will love you for it. Give them trash and they will loathe you. Be kind to yourself and to your readers.