By Daria Lamtsova
Wattpad review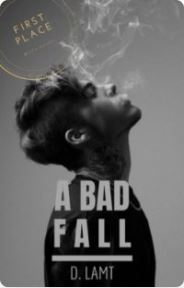 Blurb:
He's young, prominent and razor blade sharp. Dylan Pratt is a financial analyst who thought that understanding human behaviour in the world of finance meant he could decipher people in general.
However, he was wrong. Very wrong.
After a long rift with his best friend, Sam, life brings them together within the walls of the same bank. This moment follows such an ordinary event of hiring a new assistant for Dylan – a young girl whose name is Dakota.
Once the lifelines of these three cross, a chain of unordinary events start to evolve. Dylan notices that there is a connection between his friend Sam and his new assistant Dakota. However, both deny any existence of a previous link. Soon Dylan realises that he is falling in love with Dakota. Despite mutual feelings, the girl distances herself from venturing into a relationship with him.
At the same time, changes in the life of Dylan's sister Dionne, such as an announced engagement, remind him not only about the reason of his long-lasting rift with Sam, but also serves as a memory of Dylan's background – which was far from the life of a white-shoe boy, as others could think of him. In just several days after an accidental weekend with Dakota, Dylan goes through a carousel of discoveries.
He finally realises what the real love is and what kind of skeleton his family keeps in the closet. But the darkest of those discoveries is a secret his best friend and his crush share together, and the fact that Dylan becomes an inseparable part of their secret.
Review:
A Bad Fall is written mainly from a male POV and the protagonist, Dylan, is an alpha male who seems to have it all. However, he has his vices and a very interesting back story, which is threaded intricately with the overall plot.
The characters are full of depth, the writing is sharp and straight-to-the-point, and I really empathized with Dylan every step of the way. The dialogue is brilliant – it could easily have been scripted into a movie. The story is full of twists and elements of surprises, which I love. The writer has a great technique of storytelling and character development.