A romance story for dreamers
Chasing That Red Dirt Road!: A Story for Dreamers is a fitting title for the story, a beautiful romance book by author Savannah McCann.
There are so many reasons to love this book.
First, the cover is beautiful and caught my eye immediately. As I read the book, the woman on the cover was exactly how I imagined Maddison Skye, the protagonist. She's a talented musician who's had a hard life, and now her determination and ambition make her unstoppable, paving the way for a bright future full of dreams and hopes. Her road won't be an easy one – will she succeed and become a professional musician?
Second, the chemistry between Maddison and her lover, Hatch, was dynamite! Plus, I loved, loved, loved that he was a good guy! Yes, a good and wholesome man who is sexy, strong, and supportive. But, will their love last, or will Maddison's ambition come first?
Third, I enjoyed experiencing how the characters evolved, matured, and developed. I adored Maddison all the way – she shows us how kindness can go a long way in life. Hatch is the type of guy you fall in love with immediately; he is solid and means what he says. And he treats women with respect. Finally, a romance hero who knows how to respect a woman from start to end (in the story). It was honestly such a refreshing read with loveable characters.
Finally, the themes of hope, ambition, and true love resonate well and consistently throughout the book. Everyone needs a book that makes them feel good, and this was the one for me.
If you're looking for a wholesome romance book that inspires you, Chasing That Red Dirt Road!: A Story for Dreamers is definitely one you will enjoy reading.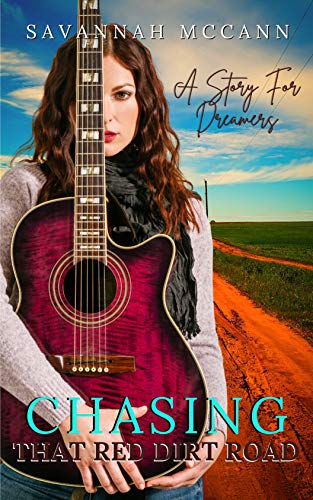 ---
Book Blurb
Follow Maddison on the journey of her two greatest loves: Hatch, her first love, and Nashville, her lifelong dream.
Maddison Skye is a 25-year-old waitress who loves to play her acoustic guitar, write songs, and is determined to chase Nashville stardom. She is hardworking and loyal but can also be very outspoken and sometimes clumsy. Maddison has a tattoo that says, "Chase Your Dreams," on her left forearm with an acoustic guitar and music notes; this is her daily reminder to keep chasing her Nashville dreams no matter how impossible they seem. Maddison grew up in the Pacific Northwest in Oregon.
When she was fifteen, she left home and her abusive father behind. Maddison catches a Greyhound bus with what little money she has in her pocket; she makes it to Mustang Creek, Oklahoma, and accepts a waitressing job, where she ends up meeting her first love, Hatch. Deciding to put her move to Nashville on hold, Maddison stays in Oklahoma for three years until after graduating high school, and she and Hatch move to Fort Worth. Unfortunately, they break up two years after moving to Texas; again, Nashville is on hold, and so are her dreams of the big city lights and fan-packed concert stadiums.
Years later, she is still single and focusing on chasing her country music dreams once again…then one day, by sheer chance, she crosses paths with Hatch while playing a set in a smokey downtown Fort Worth bar. Her heart stands still when she sees him, and he smiles at her as their eyes meet; Maddison prayed for this day for so long, but now that he's returned, she doesn't know if she will take him back or run straight into his arms!

Mildly Erotic.