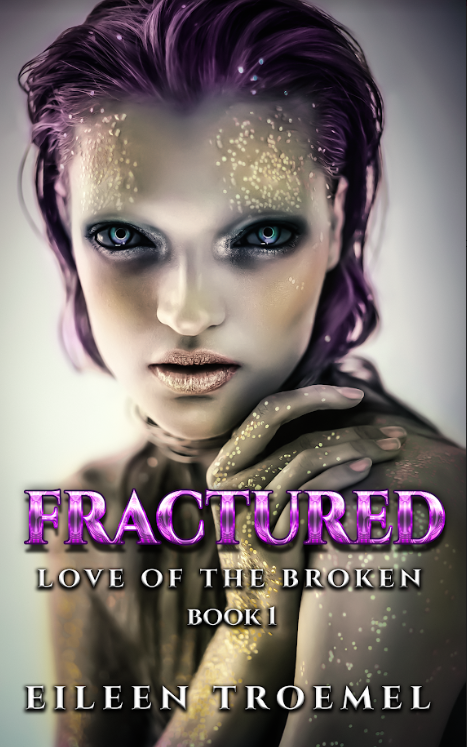 I am thrilled to announce that one of my favorite authors, USA Today Bestseller Eileen Troemel, has released a new book!
Fractured (Love Of The Broken Book 1) was released on October 15, 2022.
You can buy it here: https://books2read.com/Fractured-bk1-Love-of-the-Broken
Blurb:
Sent to the prison planet Laken, Zulma expects to be raped and tortured. What she finds there may save her and her people. Ordered to a crashed Dolian ship, Conasian prisoners of war Drake, Claud, Stuart, and Parker hope to survive the trek through the dangerous sleepers. The downed ship is vital. What they discover will change their future if they survive the sleepers and their own men.
This is a Reverse Harem dark sci-fi romance.
Trigger warning: There is cursing and violence. Rape and torture are referred to.
Excerpt
Drake stepped across the threshold and held up his hands. "What do we have here," he growled.
"Stay away from me," a small woman held a laser pistol. Clad in a concubine's white dress covering her from her upper thighs to her breasts, she stood her ground.
"Who are you," Drake asked. Stuart snatched a similar pistol out of the air when Claud tossed it to him.
"Where am I," Drake asked. Stuart snatched a similar pistol out of the air when Claude tossed it to him.
"Where am I," she demanded without answering Drake's question.
"Laken," Drake provided.
Long purple hair fell in front of her shoulder. Her pale skin shimmered as though embedded with gold. "Bastard," she muttered not taking her eyes off the two men invading the room.
"You judge us harshly," Drake growled.
"Not you," she said. "Him."
"Him who," Drake stepped closer. He tried to judge how far he'd get before she pulled the trigger. He noted the safety was not on so she at least knew how to shoot.
"The Prime," she said. Her golden-brown eyes assessed her surroundings as if she sought an escape.
About Eileen
USA Today Bestseller Author Eileen Troemel writes action packed and emotionally powerful fantasy, scifi, romance. She'll try almost any genre if it means she can tell a good story. In addition to her writing, she loves to read, crochet, and research genealogy. Her best days are spent with her family of three adult daughters and her husband or writing.
Follow Eileen: https://linktr.ee/eileentroemel