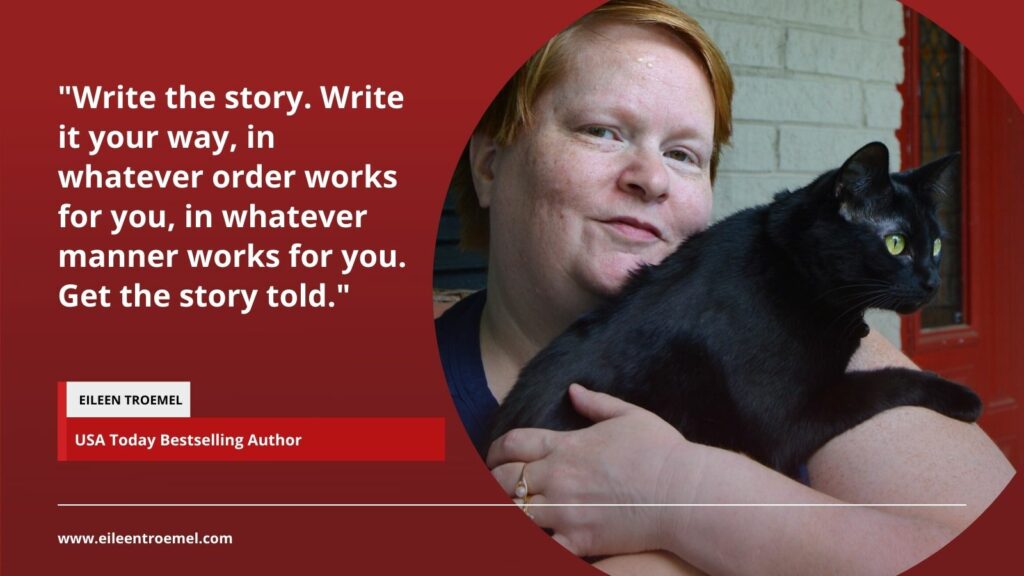 I'm thrilled to welcome Eileen Troemel, a USA Today Bestseller author of action-packed and emotionally powerful fantasy, sci-fi, and romance. Eileen's diverse books – such as Through Destiny's Eyes and Paranormal Investigators – reveal her versatility in writing various genres.
Congratulations on becoming a USA Today Bestseller. How did you feel when you found out?
It was stunning, exciting, and surprising! It was a day when everyone in the anthology was watching and hoping. There was a lot of excitement. I got it and did a little happy dance. I texted my out-of-state daughters and let my daughter and husband know. I texted all my sisters and I think my nieces and nephews.
What 3 key tips do you recommend for readers looking for a good book?
Don't look solely at the cover or the blurb – the quality of these is based on the thickness of an author's wallet.
Read a sample – if you have the ability to get into the book and can read a page or two that should tell you whether you will like the writing style of the author.
Try to overlook punctuation and simple grammar errors. I know every author should make the best book they can but some authors tell a good story – they just don't know all the comma rules or similar grammar rules.
What books do you enjoy reading?
I like the classics. I've not read nearly enough of them. EE Cummings is one of my favorites. But I also LOVE dragon books – whether it's a dragon shifter or a dragon. You can usually get me to open the cover. Thea Harrison – I love her books and wish I had more time to read more of them. JD Robb – her in death series I'm usually right on top of them when they come out.
I love science fiction and fantasy. I also like a good western. Louis Lamour is amazing. I like Shakespeare and I've read the Iliad and Odyssey a number of times. I'm kinda all over the place.
Is there a book you read that made a change in your life? How did it change you?
Life Magic by Susan Bowes For most of my life, I considered myself an agnostic. When I read this book I found my path for spiritualism. The power in her words resonated deep inside me.
When did you start writing novels and who/what motivated you to write?
In my late 30s, I found myself very dissatisfied with myself. I'd had my kids, was married, and loved all of them but was very unhappy. I hadn't seriously written much since my late teens so I went back to writing. I started with poetry, short stories, novel starts, and flash fiction.
But I always knew I wanted to write books. I think that started in grade school when I was given an assignment of writing a short story. It was the first time I realized you could tell stories and have them published. I was 8 but it took me a long time to get to a place where I was writing seriously.
I was 50 when I published my first 8 books. Poetry, self-help, romance, fantasy… all in my first year of self-publishing after years of attempting to be published traditionally.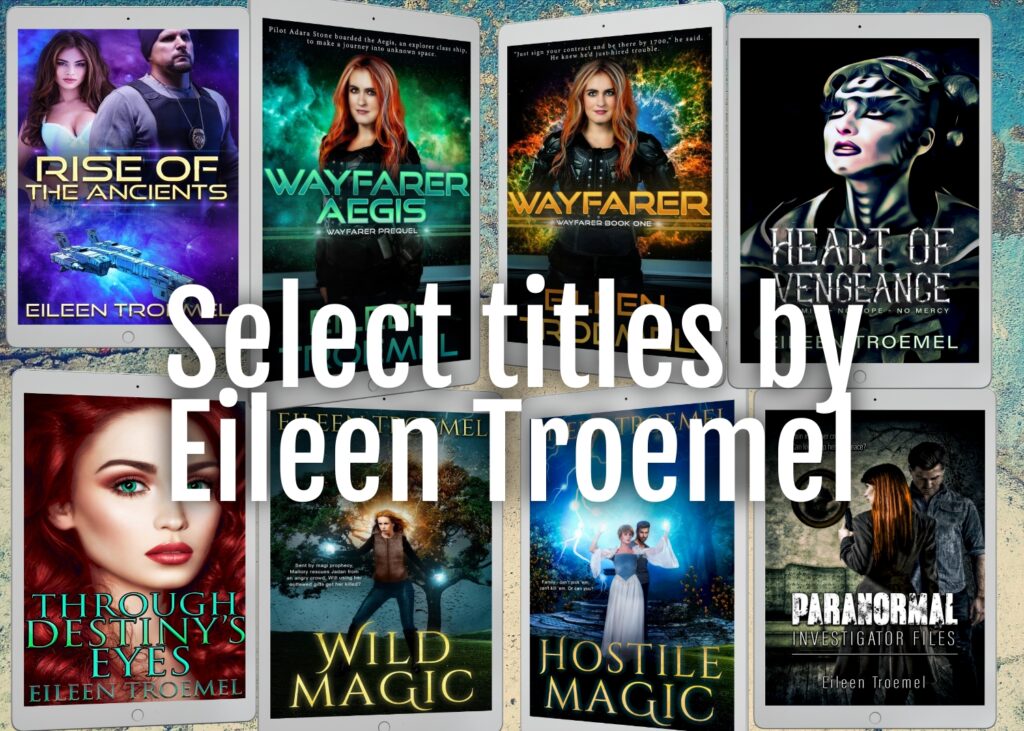 Were there any major changes in your writing career? Highs and lows?
I don't know about drastic highs and lows. I tell my stories. I know that I've had weeks where I seem to get dumped on – comments from other authors, bad reviews, or even bad rejection letters… one in a week isn't bad but when you get a bunch of them, it can be overwhelming.
I've said more than once – maybe I should stop. Then I don't write for a couple of days (sometimes only hours) and I am reminded why I'm writing.
I want to tell these stories that are in my head. I remind myself no one has to like them. I'd love for everyone to love them but the reality is not everyone will. It's okay for readers to not like my stuff. I just have to keep trying to craft that better story.
What was your first published story and what is it about?
Secret Past. It was my first novel I published. I tried for years to get it published through a variety of different publishers. I had interest from them but not a lot of follow-throughs. It took me ten years to write so I was invested in the story and hadn't learned a lot. I'm not giving you a link – this book is in my pile to get an updated edit and new cover. I love the story but I see too many flaws in it now.
Secret Past is a contemporary romance thriller. Dee has a past – one she's not willing to talk about. Nick is an ex-Navy Seal turned private detective. He wants to know everything about her. The more she says no, the more he needs to know. His need to know causes her past to catch up with her in the worst way. Rather than let her disappear from his life Nick opts in for whatever she needs to feel safe. Dee wants the house, kids, and white picket fence but with her past doesn't think she'll get it.
I think it's a solid story. It's been seven years since I published it. It needs a stronger edit to make it a better book.
What advice do you have to new authors?
Lots… lots and lots…
I think first and foremost – write the story. Write it your way, in whatever order works for you, in whatever manner works for you. Get the story told. Everything can be fixed in editing. So just get it entered in the computer or written.
There are four areas you almost need to be an expert in if you're going to be a self-published author – Writing, Editing, Graphics, and Marketing. If you aren't an expert, then pay someone to do the job for you.
Do not ever complain about the readers or the reviews you get. One if you've got readers – YEAH!!! Two if you managed to get them to write a review – thank them for their time. Most books are not 5-star reviews. Most books range from 2 to 4 stars.
How do you get over writer's block?
I don't get writer's block. I have pauses in my stories. I have pauses in my writing process. In general, I don't get writer's block. If one set of characters isn't talking to me another set will. I often have two to four manuscripts going at once.
The one time I stopped writing was around my mother's death. As executor of her estate, I balanced the grief, the tasks to do with her funeral, the tasks to deal with her estate, and then family. I stopped writing for almost a year. It was bad for my mental health. When I started back up again, I realized the lack of writing caused a lot of negativity in my life. It wasn't easy to start up again. I didn't like anything but… I started in and just wrote.
How do you handle criticism, from beta-reading to after your story is published?
Whether it comes from a beta reader or a book review doesn't matter. I try to take in what they have to say, analyze whether it's valid or not and then use it to make the book better. It depends on what they are saying.
That's my grown-up response to it. Sometimes when I get a negative review it throws me into a funk. I really don't expect 5-star reviews but at the same time, there's the creative person inside me that's going – What? Wait? I put my heart and soul into this… and well it goes from there.
But then I put on my business person's hat and analyze. Is there something I can do without (if it's published) drastically changing the story? Is there something I can put in the blurb that will make people realize it's "that" rather than having different expectations?
Ultimately I attempt to turn the critique into something I can use to make my books better.
Have you ever dealt with rejection and how did you handle it?
I tried to get published for more than ten years. I used to keep a file of rejection letters – yes actual letters. I can't tell you how many submission packets I've sent or how many rejections I've gotten. I stopped counting.
At first, it was all HOPE as soon as it was sent and then nerves about waiting anywhere from 3 to 6 months to get an answer. Then a letter (or email) would come and dash my HOPE away. Eventually, I just figured I'd get rejections.
I've gotten mean rejections – one said I shouldn't write again. That was for my poetry. They did not like it apparently.
If I actually got something more than a – thanks but no thanks – from them, I tried to use it to improve my books.
What is the nicest thing anyone has said about your work?
One of my readers who had just finished reading my Wayfarer series told me she couldn't put it down from the prequel to the eighteenth book. That was wonderful to hear but then she took it over the top by telling me, even though she just finished the series, she wanted to go back and read it again. I was over the moon with that.
She recently told me she was in a book funk and nothing appealed. She said she was looking for another Adara / Decker match and series but not finding it. So she was going to read the series again to see if she could get rid of the funk.
What is the one key takeaway advice you would give to anyone who wants to become a published author?
Being a published author is just getting started when you've finished the book. There's the production of the book and then there's marketing the book. So don't throw something together willy nilly and expect to be a millionaire author. It takes time and work.
What do you do when you're not writing? (hobbies, e.g. crochet? )
Yes, though writing can become all-consuming, I do several other things. I like to paint, craft and crochet. In fact, I publish my own crochet patterns. I also read when I get the chance. Researching family history is another of my hobbies.
Is there a particular book you would like to feature?
The Moon Crossing which I co-wrote with Jan Selbourne.
Eileen, thank you so much for your time and the great insight you have given both readers and writers. Eileen has shared a blurb and excerpt of The Moon Crossing, which she authored with another amazing author Jan Selbourne.
>> The novel is available on Amazon.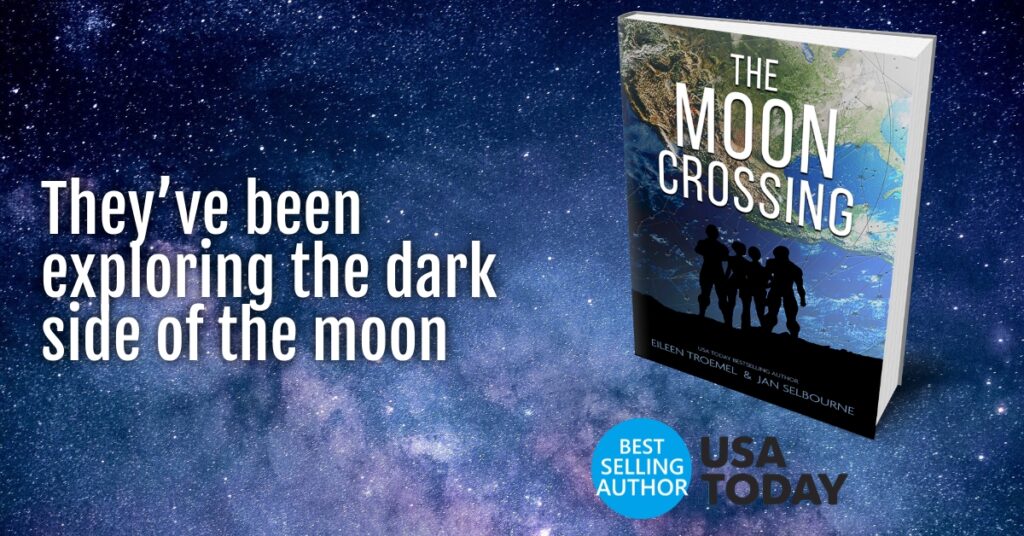 The Moon Crossing
Blurb
USA Today Bestselling Author Eileen Troemel and 2019 winner of Coffee Pot Book Club Book of the year silver medal for Historical Fiction Jan Selbourne present an alternate history, sweet romance of life after the Moon Landing in 1969.
In 2030, World Correction Center – the Earth's most secure prison – is a miserable place to land. Since it's on the moon, it's inescapable. It contains the worst criminals Earth has ever seen. So why are the brilliant minds across the globe being sent to this black hole of the justice system?
When world-renowned archeologist Micky Cooper is charged with embezzling, his sister Susan knows it's a set up. It's up to her to prove his innocence. Susan thinks she might be paranoid but she swears she's being followed and should she trust the nice man whose cousin has disappeared as well? Was it just a chance meeting or is he against her too?
Teaming up with Greg Tanner, a man equally resolved to prove the innocence of his cousin, Samantha Tanner – a world leading linguist. Susan and Greg seek clues wherever they can find them but they're barely keeping one step ahead of those who want them to stop.
They begin to unravel the web of lies, fraud and cover up. Just when they start to put the pieces together, Susan and Greg are forced to run for their lives. With a nudge from Samantha, they find someone to help. Is this woman an ally? Or simply part of a greater conspiracy to hide the truth? What exactly is on the moon and why are the Earth's greatest minds being sent there to serve time?
Excerpt
Finally at the front, she saw the little line on the sidewalk. The signs said no matter what, stay behind the line. Why? Did they think her powerful enough to break through a steel cage and bullet proof window? She forced a smile on her face as she fought her own rebellious nature. Putting her toes on the line, she raised her eyes to meet those of the officer.
The officer behind the window glanced her way. She flashed a sweet almost innocent smile to charm him. He paused momentarily, "State the name of the prisoner."
"Micky… Michael James Cooper," Susan heard the whir of the computer through the thick walls as the officer typed in her brother's name. Biting her lip, she waited.
The officer stared at the screen, an eerie green reflection on his face. He glanced at her, frowned, and glanced back to his screen. "He's not assigned," the officer said.
"Can you tell me when he will be assigned," Susan asked stepping closer to the window. She stepped over the line, but no one burst out of the doors to drag her away.
With his Adam's apple bobbing, the officer looked into her pretty blue eyes. He licked his lips as he took in her tight sweater and her curves. Pencil skirts highlighted her narrow waist and flat stomach. Susan saw the desire she endured from men since she got breasts at ten. Men. She tried to keep the disgust she felt hidden.
"He's been assigned," the officer said reluctantly shifting his eyes back to the screen. "There's no backlog of prisoners. They either get a prison in the US, or they go off to WCC."
"What's WCC?"
"World Correctional Center," he informed.
"Sergeant Brady," she read off his name from the tag on his gray uniform, "I know you get a lot of flak from people all day long, I don't want to cause trouble. I want to send my brother some food and other creature comforts."
Sergeant Brady adjusted his belt as he stood behind the glass and metal counter. "Most likely they sent him to the moon," he said. "Those designations always take longer to get in the system."
"May I ask you a simple question," Susan said putting on her 'I'm a dumb girl act'.
"Anything I can do to help," Officer Brady said, grinning when she gave him a half smile.
"I thought they only sent the worst criminals there," she said leaning forward to give him a better view of her cleavage. "I know Son of Sam and Charles Manson were sent to the dark side of the moon. Why would they send my brother who… well he did something with the computer, and they said he stole money."
"It's all up to the International Department of Justice," Officer Brady said leaning towards the glass. "They assign the prisoners to the prison."
"You're so kind," Susan beamed at him. "Who can I contact…"
"You can't and you are beyond the line," snapped an officer behind Brady, who jumped to attention.
"Oh, forgive me," Susan said stepping back. This man was not swayed by her helpless girl act. "Thank you for your assistance."
Turning away from the head of the line, Susan felt a flush rush across her face. How dare they? The dark side of the moon. Why send her brother? They convicted him of embezzlement. Murders, mass murderers, traitors were all sent to the dark side of the moon.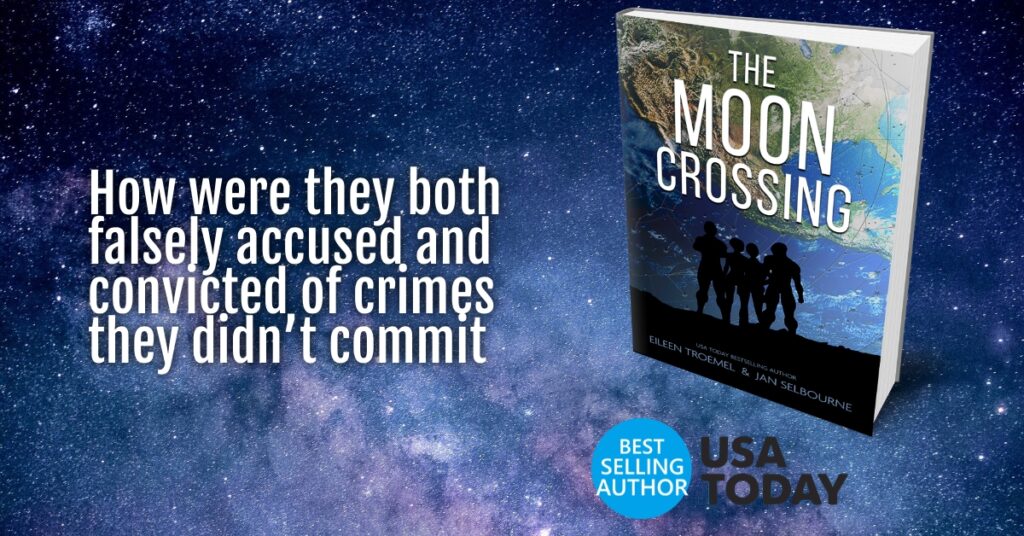 About Eileen
USA Today Bestseller Author Eileen Troemel writes action packed and emotionally powerful fantasy, scifi, romance. She's versatile and writes in many genres. She'll try almost any genre if it means she can tell a good story. In addition to her writing, she loves to read, crochet, and research genealogy. Her best days are spent with her family of three adult daughters and her husband or writing.
Author links:
Website: https://eileentroemel.com/
Twitter https://twitter.com/EileenTroemel
Facebook https://www.facebook.com/EileenTroemelAuthor/
Instagram https://www.instagram.com/eileentroemel/
LinkedIn https://www.linkedin.com/in/eileen-troemel-6667825b/
MeWe https://mewe.com/i/eileentroemel
Goodreads https://www.goodreads.com/author/show/7868345.Eileen_Troemel