Hi everyone! It's my pleasure to welcome authors Jan Selbourne and Anne Krist, who also writes as Dee S. Knight and Jenna Stewart.
About Dee S. Knight/Anne Krist/Jenna Stewart
A few years ago, Dee S. Knight began writing, making getting up in the morning fun. During the day, her characters killed people, fell in love, became drunk with power, or sober with responsibility. And they had sex, lots of sex.
After a while, Dee split her personality into thirds. She writes as Anne Krist for sweeter romances, and Jenna Stewart for ménage and shifter stories. All three of her personas are found on the Nomad Authors website. And all three offer some of the best romance you can find! Also, once a month, look for Dee's Charity Sunday blog posts, where your comment can support a selected charity. Be sure to check out Jan Selbourne's and Dee's newsletter where you can find exclusive free stuff to read.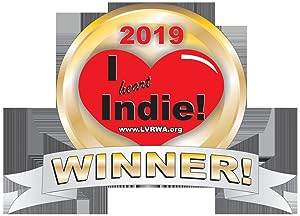 About Jan Selbourne
Jan Selbourne was born and educated in Melbourne, Australia and her love of literature and history began as soon as she learned to read and hold a pen., After graduating from a Melbourne Business College her career began in the dusty world of ledgers and accounting, working in Victoria, Queensland and the United Kingdom.
On the point of retiring she changed course to work as secretary of a large NSW historical society. Now retired Jan is enjoying her love of travelling and literature. She has two children, a stray live in cat and lives near Maitland, New South Wales.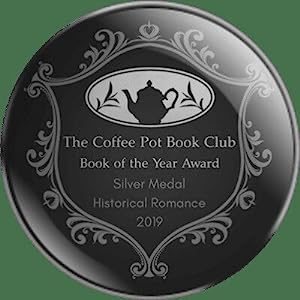 Interview Q&A
How did you both meet?

Dee: Gosh, I'm not sure if I even remember now. I know I read Jan's book Perilous Love and it blew me away. I don't know if I wrote her about it or we just met online because we both published with Black Velvet Seductions or what, but a friendship formed as we wrote each other about writing stuff. Since then, Jan has become one of my touchstones in writing. I think her books are fabulous and she is one fine writer. She's also passionate about many things—most of which we agree on—and she's funny. The one thing I don't appreciate about Jan is all the pictures of Australian snakes she insists on sending me…

Jan: Dee lives in the USA and I live in Australia. We met about six years ago when I wrote to thank her for reviewing my books Perilous Love and Lies of Gold. Dee replied which led to more correspondence and a good friendship followed.


What projects (eg. Newsletters, books, other projects) have you worked on together?

Dee: For years we published a monthly newsletter together, Aussie to Yank. My mom died two years ago and I've had health issues since then, so for a while, it was spotty getting it out, and then I kind of let it go. I'd like to get it going again in maybe a different format. Something I need to discuss with Jan. We've published two books (Finding a Christmas Miracle and Evil Lives in the Night) where we each contribute a novella. We've also been in three anthologies with BVS: Mystic Desire, Desire Me Again, and Cowboy Desire. I have to say, Jan's story in Cowboy Desire is one of my favorites (The Long Paddock).

Jan: Dee and I joined forces to write a monthly newsletter Aussie to Yank, and that encouraged us to take the plunge and publish two books. Finding a Christmas Miracle – two historical novellas of two men, one from Outback Australia, the other from Nebraska USA, engulfed in a war no one understands or wants – Vietnam. Evil Lives in The Night – two historical novellas of, you guessed it, crime and devious deeds in the US and Australia.


Why did you choose to collaborate on these projects?

Dee: Um… I'm not sure? It seemed like a good idea at the time, lol. As I said, I like Jan's writing and since my persona as Anne Krist writes sweeter (as opposed to Dee's erotic romance), I thought our styles would work together well.

Jan: Easy. We enjoy working together.


Does it help to have an author friend you can rely on? What are the benefits of teamwork vs. going solo?
Dee: Absolutely! Though I'm not sure I have been the most reliable for our current project. I've let my story slide. However, the benefits of working with a co-author are great—if there's trust between you. I have that with Jan. I can send my drafts to her and know she will be critical but helpful. She's wonderful to brainstorm with, too. I love the books we've done together.

Jan: Absolutely, Dee has always given me honest feedback. Her suggestions when I hit a brick wall in the last chapter of The Woman Behind The Mirror, were invaluable. And, the best, we can laugh at ourselves and each other.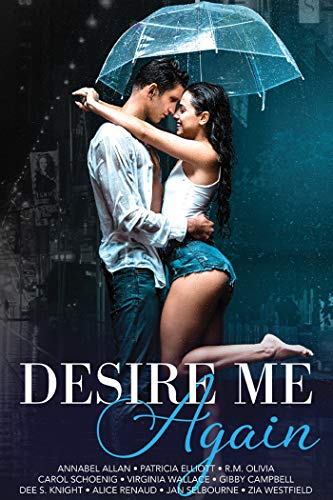 What book would you like to feature?

Dee: Evil Lives in the Night – Two great historical novellas that will keep you guessing.

THE NEXT STOP IS DEAD. Getting into the train that dreary Saturday afternoon would change Alison's life forever. At the end of the carriage, three men are seated together. Another man gets in and a few minutes later sits beside her with a message. "Get out at the next stop, the man in the middle is dead."

MISSING. Sisters Audra and Daina communicate using 'twin language'. But how much difference will that make when Daina disappears? Can Audra find her sister before her abductor ends Daina's life? Even with the help of an over-protective detective, saving her missing twin might not happen in time.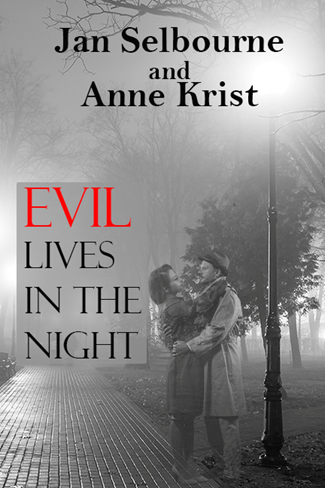 Evil Lives in the Night: Two historical, suspense, noir novellas – Kindle edition by Selbourne, Jan, Krist, Anne. Mystery, Thriller & Suspense Kindle eBooks @ Amazon.com.
6. When did you start writing and what motivated you to write?
Dee: I wrote my first book twenty years ago as a lark, actually. My husband did consulting work and we moved all over the country doing it. He had short contract work in South Carolina and there wasn't enough time for me to find a job so he suggested I write a book with the story I'd had rattling in my head for years. So in a month, I had a 95K-word romance finished. It didn't get published, but the next book, written in the following month, did. I had no idea before then that writing could be so much fun!

Jan: I started writing twelve years ago and as I'm a bit of a history freak, I leaned towards historical fiction. In 2014 I got serious and wrote Perilous Love, set in the early days of World War One. I'll be honest, when the publisher's email appeared in my Inbox I thought, 'It will be a no thanks.' It took a few seconds for my eyes to register it was an acceptance.
7. Have you ever received criticism from readers, editors, or reviewers? If so, how did you handle it?
Dee: I'm lucky enough to have received very nice comments from readers and from editors, too. Reviewers are different, of course. Like every author, I've had some bad reviews. I've cursed, thrown pillows against the wall, and even cried with my first one. But in the end, what can you do except accept the reviewer's comments and move on? It's hard to believe that a review is one person's opinion. Funny how after all the glowing reviews it's the bad ones that stick with you, though.

Jan: Yes. I proudly submitted my newly finished Lies of Gold to a publisher for consideration. She replied she liked the story, wanted to know the ending, but got tired reading to get there. Find a professional editor. Ouch, that stung, and I muttered very bad words. I couldn't afford a professional editor and my wordy manuscript wouldn't fix itself, so I sharpened the razor and started on page one. I trimmed dialogue and tightened scenes, asking myself why I hadn't seen the glaring errors. Over four thousand words were given the flick and Lies of Gold was accepted. Valuable lessons were learned – we need helpful criticism, and we need independent eyes because we become too close to our characters.
8. What is the nicest thing anyone has said about your work?

Dee: One woman said that I (as Dee S. Knight) saved her marriage. She said she and her husband took one of my books to bed with them. Lol. That might have been TMI, but I appreciated the concept. Another woman wrote my publisher and said that my first book (Impatient Passion, which I'm getting ready to re-publish) was the best romance she'd ever read. I was thrilled and humbled. Hard praise to meet with subsequent books!

Jan: My books have received some wonderful reviews, but for me, the best was 'I felt I was right there with them'. That makes it all worthwhile.
9. What is the one key takeaway/advice you would give to anyone who wants to become a published author?

Dee: It's a combined one key: Learn your craft (grammar, punctuation, styling), find a good critique partner or beta reader who will not be nervous about commenting on your work (in a helpful, not hurtful way), and then write, write, write.

Jan: Keep trying. Don't give up.
10. What do you do when you're not writing? (hobbies, etc)

Dee: I read a lot, though a recent problem with my vision has made that harder. I (hanging head) watch a fair amount of TV, including news, HGTV, and the ID channel, for crime/murder shows. I used to crochet and do counted cross-stitch but stopped when it became too hard to see what the heck I was doing. That made for some weird craft projects!

Jan: I'm retired, and able to spend time with my family, especially my granddaughter and my rescue dog Ginger.
---
Thank you so much, Jan and Dee!
Where can you find the authors?
Dee S. Knight
All three of Dee's personas (Dee S. Knight, Anne Krist, and Jenna Stewart) can be found on the combined site for Nomad Authors: https://nomadauthors.com
Blog: https://nomadauthors.com/blog
Twitter: https://twitter.com/DeeSKnight
Facebook: https://www.facebook.com/DeeSKnight2018
Goodreads: https://www.goodreads.com/author/show/265222.Dee_S_Knight
Amazon: https://www.amazon.com/-/e/B079BGZNDN
Newsletter: https://landing.mailerlite.com/webforms/landing/h8t2y6
LinkedIn: https://linkedin.com/in/dee-s-knight-0500749
Sweet 'n Sassy Divas: https://bit.ly/1ChWN3K
Jan Selbourne
Website: https://nomadauthors.com/JanSelbourne/index.html
Blog: http://nomadauthors.com/blog
Twitter: http://twitter.com/JanSelbourne
Facebook: https://www.facebook.com/jan.selbourne
Goodreads: https://www.goodreads.com/author/show/14661584.Jan_Selbourne?from_search=true
Amazon Author Page: https://www.amazon.com/Jan-Selbourne/e/B0184OSZ6E/ref=ntt_dp_epwbk_0
LinkedIn: https://www.linkedin.com/in/jan-selbourne-2817b6140/
Jan Selbourne's Books – Book Marketing Global Network
---
Interviews with other authors
Discover more bestselling and award-winning authors, who reveal their tips and life lessons.